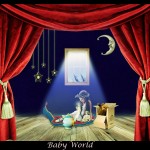 In our Baby World Things we can boast many satisfied customers who would never shop anywhere else. We have built our reputation on our friendly and thorough service, stocking the best brands and having friendly staff with extensive knowledge across all our products always readily available to advise you of the best choices for your personal needs.
We have a comprehensive range of all baby products. Babies Things endeavors to give you the best guidance and service possible ensuring that all your needs are met.
Baby Things – Persnol service on everything you need for baby clothing, baby toys and more.
Please feel free to contact us with any queries.
We are East Godavari's Largest & Leading Retailors for exclusive BABY Products. Established in 2011 as a partnership firm in Kakinada. Soon we are turning into pvt.ltd company and we have over 2000+ baby products from 100+ Indian and International brands. Currently we are having 70+ Employees and for a continuous training & development programmes, we have our own HR Team and we have a strong Marketing Team for continuous promotional and Publicity Activities.


Is to provide best Products / Brands at the affordable prices with a great baby shopping experience with best quality and prompt customer service. Our benchmark is to provide our customers with an International Shopping Experience.